Exquisitely beautiful, slim, graceful and kind, fair Merveil was the envy of all the court maidens. As the most desired, it was only fitting she attracted the affections of Daresso, a famed swordsman, notorious flirt, and renowned treasure hunter.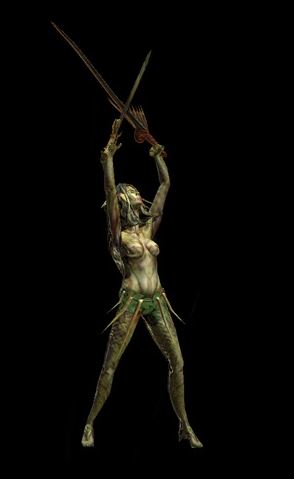 The days that followed the grand wedding, Merveil was seen about the city, appearing to float on a cloud of joy, so difficult to read was her expression of blank contentment. She went from home to the market to the theater, always with the precious necklace at her throat, the better for all to see.
Hunt of POE Items Lore: Changes of Marveil
The first sign of warning came at a party, when one of the lady's friends decided to reach out to caress the beguiling stone. The woman's fingers had only brushed the gem, when Merveil screeched and clawed violently at her friend's face. Some who attended the party swore that the sound was more of a hiss than a scream, but all could agree on the horror of the injuries inflicted. The girl lost an eye but was lucky to keep any sight at all.
Naturally, Daresso was aghast at his bride's actions, yet Merveil's rage at the party was only a sign of things to come. She began to leave their bed at night, wandering the black streets aimlessly and returning home disheveled and smelling foul. On one night, her husband awoke to find her naked in bed with him, as freezing cold as death itself, her skin covered in some sort of vile slime. It was even said that she had seaweed tangled in her hair, but of course that was false, wasn't it? After all, the sea was a long walk from the city, down at the bottom of jagged cliffs.
Siren's Daughter for POE Items
A cheer went up among the men, some rubbing their eyes with disbelief. As we drew closer, the pounding roar of the surf drowned out our anxious chatter, and the forbidding, rocky wall drew ever larger. To our dismay, we found no port at water's edge, no cove to shelter our beleaguered vessel. "We head North, around the peninsula" the captain ordered, so we came about and set course.