Grinding Gear Games has announced that when the Hall of Grandmasters will be added in upcoming patch 1.3.1 for Path of Exile. This feature that has been announced last year will have collectors of POE items battle "ghosts" of fellow Exiles. It will be by far the hardest map in the game.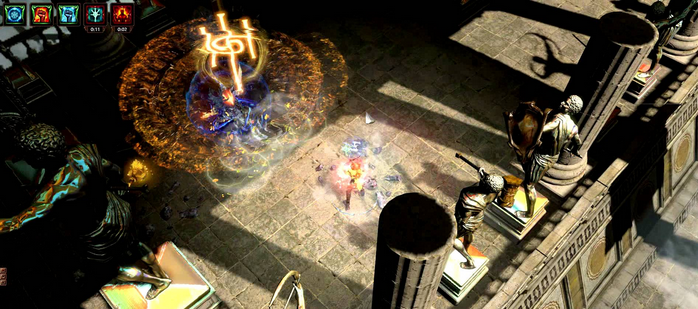 Fighting fellow collectors of Path of Exile items
After a long wait, the Hall of Grandmasters is finally coming to Path of Exile. The special map will be introduced in patch 1.3.1 as a level 69 unique map. Exiles will encounter this map at the same frequency as Corward's Trial. The main area of the map is a safe zone in the form of a long hallway with a multitude of doors on each side. Each door leads into a new hall containing the eponymous Grandmasters.
Each of the branch halls in the map contain fifty Grandmasters. Exiles however will only encounter them five at a time. Each group is locked behind a force field that is only removed once the current group has been defeated.
Difficulty hunters of Path of Exile items should expect
Grandmasters placed in the map are picked at random. Additionally, they are grouped randomly in each of the halls. Most important of all, they are designed to behave like a normal player, since they have been submitted by players. As such, be prepared to encounter a wide variety of attacks and tactics. It is advisable to take backup gear and Path of Exile items of different resistances for this. Note that as players clear halls, the next ones will be progressively harder.
Path of Exile items rewards
Once the tenth group of Grandmasters has been defeated, your Exile will be given access to the Grandmaster's Cache. This random unique strongbox contains high quality loot for your character ranging from accessories, gear to Path of Exile Orbs. Players can then go back to the main hallway and enter a new hall to get more loot.