Halloween is coming and Path of Exile is helping collectors of POE items celebrate. Halloween themed items can be obtained from the Microtransaction shop. Players can get decorations for their Hideout, as well as cosmetic skins for their equipment. Old items are also still on sale for the player to get.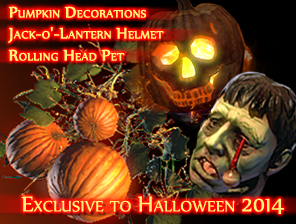 Bundled Microtransaction Path of Exile items
To help celebrate the scary season, players can now purchase Jack-o'-Lantern headgear skins for their characters. Also available is a Rolling Head pet that will follow your character around as you hunt Path of Exile items in the game. There are also Pumpkin Decorations for sale for those who want to spruce up their Hideouts. The Jack-o'Lantern sells for 150 points, while the Rolling Head Pet goes for 100 points. Pumpkin Decorations are 25 points each. Thrifty players can get a Halloween bundle containing the Jack-o'-Lantern, Rolling Head pet, and four Pumpkin Decorations can be bought for 240 Microtransaction Points.
Path of Exile items for your Hideout
The Microtransaction shop also has Hideout decorations up for sale. Players can get an Energy Dome Decoration for 70 points. Want to cozy up to a fire when it's raining? Why not get a Fireplace Decoration for 60 points and a Rain Decoration for 25. You can also intimidate your visitors with Impaling Spikes available for 15 points. Go all out with a Sacrificial Shrine too for just 30 points.
Seraph Path of Exile items
For those who would rather feel angelic during the Halloween season, the Microtransaction shop has you covered. Just get a Seraph Sword for 180 Microtransaction points. You can also get a Seraph Shield to match for 200 points.
Note that all items from the Microtransaction shop are for cosmetic purposes only. They will not improve or reduce the effectiveness of your items like most Path of Exile Orb modifiers do. They are purely for cosmetic purposes only.