Path of Exile's Patch 1.3.0 is due to come out on December 12. That doesn't mean we can't take a sneak peek at its contents. In the coming patch, players get all new POE items. The patch also brings changes to the Passive Skill Tree. Lovers of player versus player content will be able to make characters dedicated to the fight.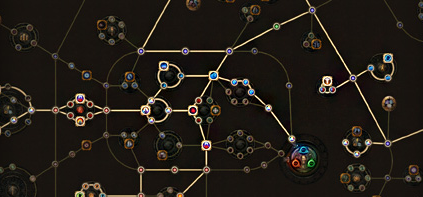 Skill tree changes for collectors of Path of Exile items
The upcoming patch will introduce changes to the passive skill tree. In particular, the sections for the Templar, Duelist and Marauders have been worked over. This is in line with the previous content patch's update on the Witch, Shadow and Ranger classes.
The changes will also allow for better progression for melee characters.  The update seeks to allow players more diversity in their builds, both for PvP and PvE. Note that all players will receive a one-time passive tree reset when the patch goes live.
New Path of Exile items for players
Patch 1.3.0 will be adding 8 new skill gems and 25 unique items. The new skills range from counter-attack skills for melee characters to bow skills and even wand skill. The patch also adds unique items, 11 of which have been designed by the community. Some of the unique Path of Exile items and accessories can only be obtained through the new challenge leagues. All items are designed to allow players more flexibility in their PvP and PvE builds.
Path of Exile items only from PvP
Due to the popularity of dueling with level 28 characters, the upcoming patch will be adding a new feature for PvP-minded players. The new feature will allow players to create blank level 28 characters. The goal of the new feature is to allow players to skip the hassle of grinding levels and jump straight into PvP tournaments. Players will still have to get Path of Exile items through normal PvE however.