Patch 1.1.3 for Path of Exile introduced several new Path of Exile items. The patch also implemented new tweaks aimed to make the game more balanced. Knowing these changes will help players get the most POE items while playing. Grinding Gear Games also teams up with Child's Play for a charity event.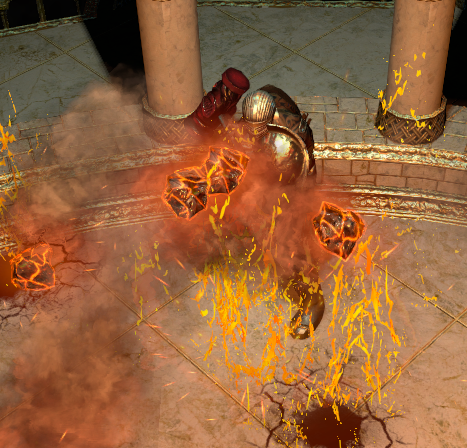 Where to get Skill Gem Path of Exile items
The new Skill Gems Molten Strike and Convocation were added in the recent patch. To obtain these Path of Exile items, players need to complete the quest "Enemy at the Gate." Aside from getting items and Path of Exile Orbs, the quest will also reward the new Skill Gems. Normal difficulty rewards Molten Strike while Convocation is given on cruel difficulty.
Balance tweaks for collectors of Path of Exile items
Speaking of skills, the Reave skill will now have its stacks shared across all versions of the skill. Switching to different copies of a Reave gem will yield the same stack. Another balance tweak introduced in patch 1.1.3 is the addition of a 75% cap for Dodge and Spell Dodge. Finally, Life, Mana and Hybrid flask Path of Exile items can no longer be used at full health/mana.
Microtransaction Path of Exile items for charity
Players who want to contribute to Child's Play can do so by buying POE items in the Microtransaction shop. The new Angelic Mask helmet skin will be available during the event period for this purpose. All sales of this Microtransaction Path of Exile items will be donated to Child's Play.
Special event Path of Exile items and more
The children aren't the only ones who will benefit from the event. Those who participate in the Ambush/Invasion Races will receive special prizes aside from the items and Path of Exile Orbs they get. Note that rewards are not limited to Path of Exile items but also include Razer equipment, and even a Q&A session with developers.