Come July 28, Supporter Packs for Path of Exile players will no longer be sold. This comes after over a year of the packages being up for sale. Grinding Gear Games offers their thanks for all the support. However, players who wish to get the unique POE items from these packs need to act quickly before they are gone forever.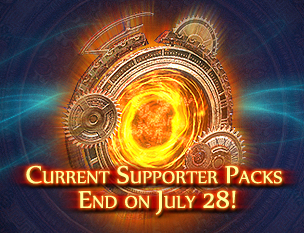 Packs for gatherers of Path of Exile items
As a free-to-play game, Path of Exile relies heavily on support from players. This comes in the form of microtransaction sales. This in turn can be from cosmetic items or special Supporter Packs. Introduced when the game celebrated its first anniversary, Supporter Packs gave players access to exclusive cosmetic items. They also give players points for the Microtransaction shop. Finally, certain packs provide players real world goods like shirts and hoodies designed b y JINX.
Survivor and Warrior exclusive Path of Exile items
Available for $50, the Survivor Pack gives players 400 points. Supporters will also get a Survivor Supporter Forum Title along with the purchase. The package also includes a digital copy of the game's soundtrack. Item collectors will also get the Survivor's Supplies Back Attachment. Finally, the Survivor's Respite Portal Effect is included in the bundle.
The Warrior Pack includes the perks of the Survivor Pack. However, at $120 it gives 1,100 points instead. It also adds the Warrior Portrait frame along with its special portal effect and back attachment.
Path of Exile items for Champions and Conquerors
Starting with the Champion Pack, players can get a hoodie and t-shirt created by JINX. The garments are styled with Path of Exile Orbs. The Champion's Pack goes for $280, and has the bonuses of the previous packs. Additionally, it contains Champion themed forum title, back attachment and portal effect. The pack also gives players 2,300 Microtransaction points.
Finally, the Conqueror Pack at $900 includes all the perks of the previous pack and 9,000 points. Players will also get a customized forum avatar. The pack also adds Conqueror themed Path of Exile items and forum title.